By: Nick Nicholas
NEW YORK, February 17, 2017 — Both an indoor world record and American high school record were eclipsed Friday night during the inaugural Artie O'Connor College Invitational at The Armory's New Balance Track & Field Center.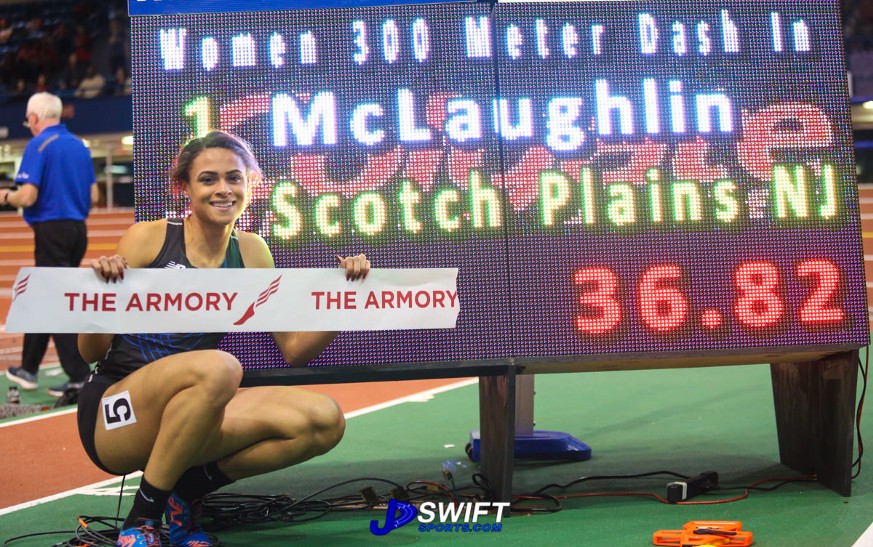 High school Olympian and Union Catholic (N.J.) senior Sydney McLaughlin recorded an American high school record of 36.82 in the Women's 300m, bettering Francena McCorory's 36.96 of Bethel High School (Va.) in 2006.
"Last week there were so many more people at Millrose and much better competition," said McLaughlin, who competed in the NYRR Millrose Game's Women's 300m against Olympic gold medalists Shaunae Miller and Natasha Hastings. "That got into my head a little bit and I really didn't run my race.
"This week I tried to get out and run my race and focus on all the points my coach taught me. From last week until now it was about building confidence … I kept telling myself 'I could do it' because last week there was a lot of self-doubt and the competition was intense. Coming into this race I wanted to mentally prepare myself that I could do this."
McLaughlin, who has signed with the University of Kentucky, competed at the Olympics in the 400-meter hurdles and placed fourth in the 300 meters last Saturday at the 110th NYRR Millrose Games, clocking a personal best 37.09 seconds.
HOKA New Jersey-New York Track Club milers Donn Cabral, Ford Palmer, Kyle Merber and Graham Crawford broke the world's indoor all-time 4xMile mark with a time of 16:12.81. The old mark previously was held by the New York Athletic Club in 1993 with a time of 16:16.67.
Merber was the team's anchor and guaranteed the new world mark with a 3:59.3 time. His team came into the week thinking they could possibly go under 16 minutes.
"This was definitely harder than you think," said Merber, a former standout at Columbia University. "Also a few days ago we had to change up the team a little bit. A couple days ago Colby woke up not feeling 100 percent. This was Graham's first race of the year so he's one-for-one in World records."
Earlier in the week, Crawford was added to the team due to an injury to NYRR Wanamaker mile participant Colby Alexander.
"It was really exciting (running anchor) but a bit chaotic," Merber added. "I was passing guys constantly and it was kind of like dodging traffic. You get caught up in somebody's pace and you have to stay in your own world.
"It's huge exposure for HOKA and the New Jersey-New York Track Club. I think we have one of the best mile crews in the world and I'm really proud of our training group. This really showed a team effort and it was special to Coach Gags (Frank Gagliano of Rye)."
Cabral, 27, competed in the 2016 Rio Olympics for USA in the steeplechase while Merber finished third during last Saturday's NYRR Millrose Games signature event, the men's NYRR Wanamaker Mile.
Incidentally, Artie O'Connor coached Fordham to the 1963 4xMile Relay title at the Penn Relays. Armory Foundation President Dr. Norbert Sander was a member of the famed '63 Fordham squad.
Friday's meet was primarily a college meet and features a schedule built around athletes trying to achieve qualifying marks for upcoming championship events.
For more on the Artie O'Connor College Invitational please click HERE.
Follow The Armory on Twitter, Facebook and Instagram at @armorynyc or go to ArmoryTrack.com or Armory.NYC.
View the full photo gallery from this meet on http://www.jswiftsports.com/Sports/Track-and-field/20162017-Indoor-season/Artie-OConnor-College-Invitational-/