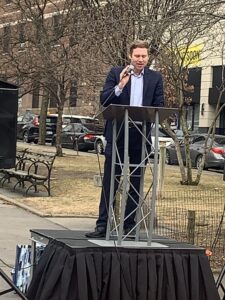 Queens-based Labor Lawyer Ethan Felder and elected Democratic District Leader kickoff rally before supporters at MacDonald Park Forest Hills Queens on Sunday.
During rally, Mr. Felder formally announced his candidacy and shared his compelling reason for running and vision for Queens. After years of serving communities as public defender attorney and giving back even during this pandemic, for a young man with his passion for public service, no surprise his community is taking serious look considering the incumbent probably already overstayed his welcome in office.
The reception Mr. Felder got was very enthusiastic. More in the coming weeks from this young man who for all intents and purposes represents one of the leaders of tomorrow and new generation of Queens leaders to help transform his community.