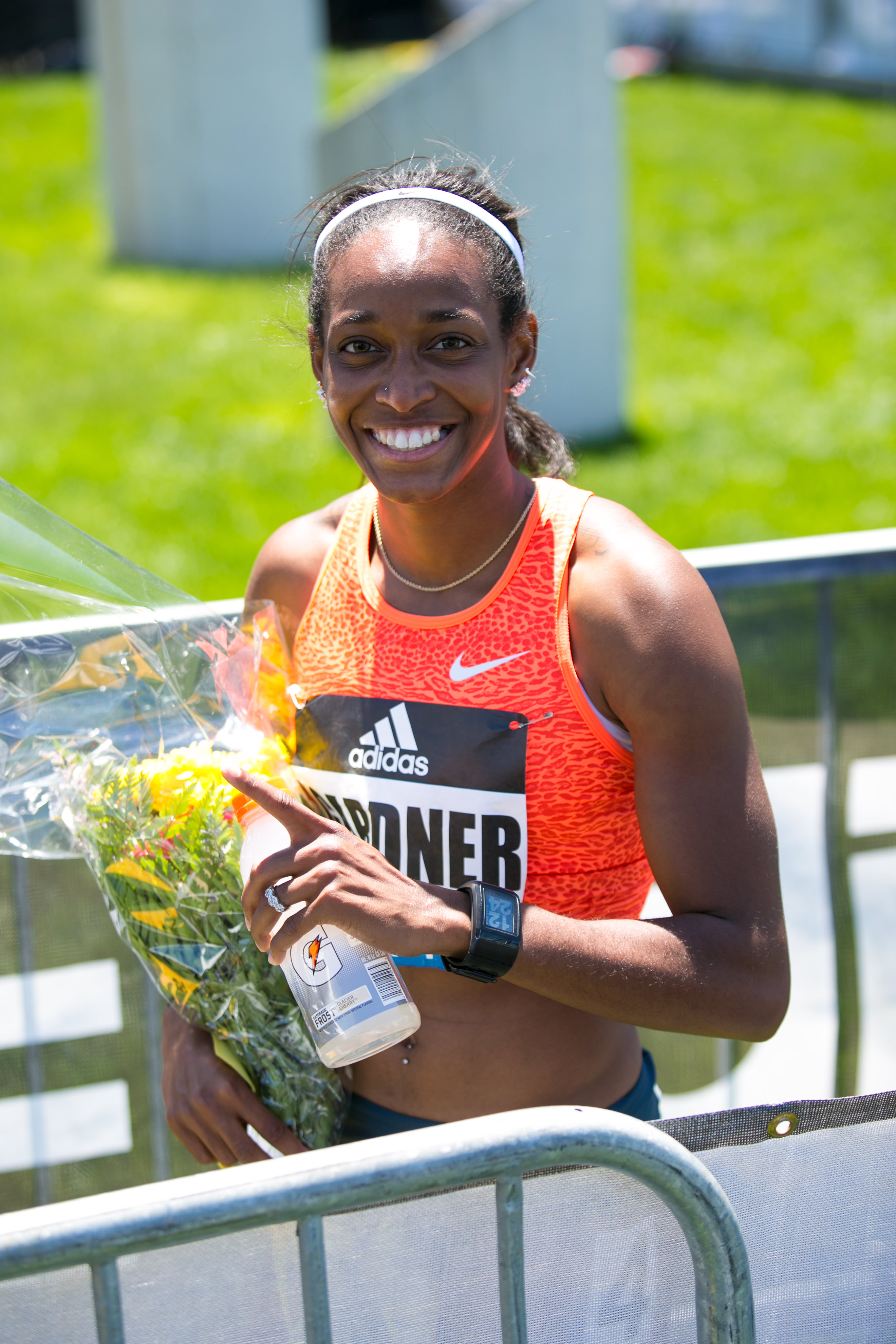 Olympic gold medalist English Gardner has something to prove at 112th NYRR Millrose Games Women's 60m.  Photo by Image of Sport
NEW YORK, January 31, 2019 – Olympic gold medalist English Gardner has plenty to prove entering the nationally-televised 112th NYRR Millrose Gameson Saturday, February 9th at The Armory's New Balance Track & Field Center in Washington Heights.
Going into 2016, the Philadelphia native already was one of the brightest young stars in American sprinting, winning five NCAA championships while at the University of Oregon, two world championship silver medals as part of the American 4x100m relay and the 2013 national championship in the 100m.
The Olympic year represented another breakthrough for Gardner as she won in the U.S. Olympic Trials with a new 100m personal best of 10.74, making her the seventh fastest woman in history. She then won gold in Rio on the relay team, sprinting on a USA team that included Tianna Bartoletta, Allyson Felix and Tori Bowie to reach the top of the podium.
"I started off 2016 with the motto that I just couldn't lose," said Gardner. "And even if I did lose, I figured out why and learned from everything. It was a year of dominance, and I grew in maturity as well, in terms of how I approached running and prepared for my races. I went into that year knowing that there was no excuse not to be on the Olympic team and no excuse to leave Rio without a medal."
Unfortunately, Gardner ended that season with a torn meniscus that required surgery, and her injury problems followed her into 2017. Gardner's knee buckled during a handoff while competing at the Diamond League meeting in Monaco, resulting in a torn ACL for the second time in her career. Recovery took a full year, and Gardner's 2018 season was abbreviated as a result.
She refused to let these setbacks break her spirit.
"It helped that this wasn't my first ACL tear," she said. "This series of injuries made me revamp who I was as a runner and who I was around. I look at it as more of a blessing than a curse. I ended up moving back home to New Jersey to be around my family and friends who really support me, so I could buckle down and get back to my roots."
Moving from Los Angeles back to New Jersey wasn't the only thing that changed. Gardner switched coaches, electing to be trained by her father Anthony. She also began coaching the men's sprinters at Princeton University as a volunteer assistant alongside her own training.
"Not having the glitz and glamour of when I first went pro is something that has fueled me," Gardner said. "I had top-of-the-line coaches and facilities before, but I'm a little bit more on my own now, and that's OK. My dad has been coaching me since I was seven years old, and even in college he had a hand in my training. I like to joke around and say that I'm like Rocky, getting back to the Philly area and embracing where I came from."
Coaching at Princeton has also given Gardner a new community and a different perspective on the sport.
"It's been amazing," she said, reflecting on her time at Princeton. "These guys come ready to work every day really focused and ready to go, even though they have to balance track with their strenuous academics. That's what you dream of as a coach, not having to force your athletes to work and getting to be surrounded by people with the same mindset and goals. It also teaches me to lead by example. If I'm giving them instructions and they see that I'm putting in the work myself, it helps them be able to trust me more. We're a family, we all work together to get better, and it's something that I take pride in."
Looking ahead, Gardner is scheduled to compete in the 60m at the 112th NYRR Millrose Games, where she will race against Bowie, Deajah Stevens, Gabby Thomas and others.
"I'm super excited to come back and run in front of a familiar crowd where I've been competing since high school," said Gardner, commenting about her return to The Armory that will host the NYRR Millrose Games and an NBC Sports nationally-televised audience. "Training has been going absolutely amazing, I feel like I'm starting to come around and feel like myself again. Back in high school I just came off my first ACL surgery and I was running the 60m in a meet at The Armory. I ended up running one of the fastest times in the country, I think it was U.S. No. 1 that year. It showed me that even though I had my issues, I was still able to come back. It's kind of ironic that my first meet coming back again from an ACL injury is in the same arena. It's a magical experience in there – always loud and energetic. I know that the competition will be absolutely amazing, so I just want to get out there, compete at my best and snag a `W' in front of my home crowd."
Millrose will be the starting point for Gardner's 2019 season, a year that she hopes will be her best yet. Only 26, Gardner is in her prime and she looks to take advantage.
"I've had plenty of awesome moments in my career, but I haven't had the breakout that I feel I'm capable of," she said. "I take everything one race at a time, one rep at a time, and I'm getting better every day. My goal is to be the fastest woman alive, and I won't stop until I get there. I'm even more focused than I was in 2016, and I can't wait to see how it unfolds."