By:EmmisNY
New York, NY (October 3, 2017) — The Annual Circle of Sisters EXPO closed with a record-breaking number of attendees at the Jacob Javits Convention Center in New York City, Saturday, September 30, 2017.
Circle of Sisters remains the largest EXPO in New York City that celebrates and unites women of color. Highlights of the day included the legendary actress Cicely Tyson who was honored by the WBLS team with the Circle of Sisters Living Legend Award, prima ballerina Misty Copeland shared her experience with attendees and received a special award.
The day was jammed-packed with stars of stage and screen, performers, entertainers, chefs and so much more. From Vivica A. Fox to Basketball Wives' Evelyn Lozada, Imposter's Stephen Bishop and Power's Rotimi; to Papoose and rap artist Remy Ma as well as gospel artist JJ Hairston and wife Trina — all gave the audience what they wanted. From relationship advice to delving into the State of Black America, CNN Political Commentator Bakari Sellers joined Pastor A.R. Bernard, Rev. Al Sharpton and WBLS' Ann Tripp to set a framework for the community. Simultaneously, the Culinary Corner was hot with celebrity chefs Carla Hall of ABC's The Chew, Pat Neely, Nikki Shaw and the BBQ Sauce King himself, Bobby Brown.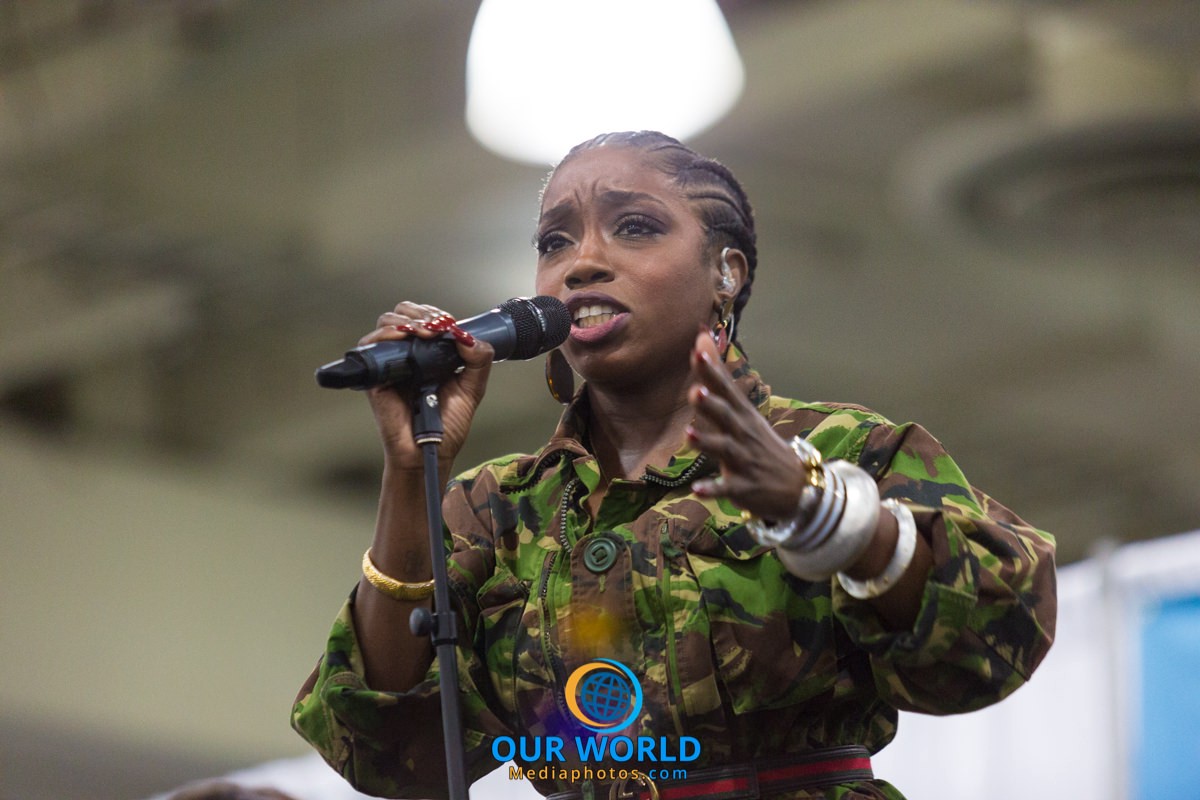 Estelle, Melanie Fiona, Tank, & Sevyn Streeter had everyone on their feet. The 2017 EXPO also featured a SOLD-OUT Metro PCS Gospel Explosion, with performances by Tina Campbell, Erica Campbell, Jekalyn Carr, Ricky Dillard and Kierra Sheard hosted by Hezekiah Walker, Neicy Tribbett and Liz Black.
"We commit every year to making Circle of Sisters bigger than the year before. This year was no different," says Charlie Morgan, Senior Vice President/Market Manager WBLS/WLIB. "This was our best year yet! The EXPO continues to grow beyond our imagination.
This year, as always, Sisterhood, Cooking, Children, Fashion, Education was front row, not to mention hundreds of vendors selling everything imaginable — all under one umbrella allowed for a New York City perfect Saturday.
Circle of Sisters (COS) is the largest expo for women of color in New York City. Produced and hosted by WBLS-FM, HOT 97, WLIB — AM and Emmis Communications, COS hosts a variety of panel discussions, seminars, gospel concerts and a fashion show in addition to over 200 vendors and small businesses selling unique items and services all weekend. This expo is accented by an avalanche of captivating elements such as fabulous shopping and food tasting with some of today's top chefs at the Food Pavilion and youth activities including lessons in the arts and dance at the Children's Pavilion. Each year, participants can attend informative and empowering panel discussions led by authors, field experts, political figures and some of the biggest names in entertainment.